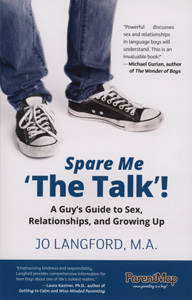 SPARE ME "THE TALK"!
By Jo Langford. These "defensive sexuality courses," aiming to be a safe, private way for teens to obtain the skills and information needed to make informed decisions, answer the tough questions that teenagers really have—but would rather die than ask. In language that's relatable, unflinchingly honest, and often funny, teens learn ways to avoid pregnancy and STDs, understand bodies and body issues, stay safe online, ask someone out, accept sexuality in all shapes and sizes, and decide what is right for them. These guides serve as a crash course for girls and guys in staying safe—emotionally, mentally, and physically—while navigating the world of sex and sexuality in the digital age. Grades 7 and up. Indexes. Bibliographies. Suggested readings. ParentMap. Approximately 150 pages each. ©2015–16.
Read More
This title is part of the series: SPARE ME "THE TALK"!
Grade

Grades 7-12
Grades 7-12
Grades 7-12

ISBN

9780990430605