Sale!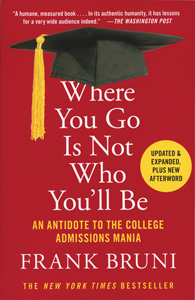 WHERE YOU GO IS NOT WHO YOU'LL BE
An Antidote to the College Admissions Mania
Paperback
By Frank Bruni. College is what you make of it, claims this powerful guide that shows how all kinds of colleges—not just the most elite—can serve as springboards to extraordinary success. Through statistics, surveys, and compelling anecdotes, Bruni questions the frenzied college admissions process and demonstrates that what matters in the end are a student's efforts in and out of the classroom. Grades 10 and up. Index. Suggested readings. Grand Central. 262 pages. Revised edition. ©2016.
Look inside this title
"Written in a lively style but carrying a wallop, this is a book that family and educators cannot afford to overlook as they try to navigate the treacherous waters of college admissions."
—Kirkus
Read More
This title is part of the series: WHERE YOU GO IS NOT WHO YOU'LL BE
Grade

Advanced
Advanced

ISBN

9781455532681